Watch Robin Roberts of Good Morning America make chocolate truffles with us on National Chocolate Day!
Virtual Chocolate Tastings for Businesses & Groups
Experience a fun chocolate journey with a private, virtual chocolate tasting, hosted by Chocolate Therapy's own Pam & David Griffin.  Sample our unique, handcrafted truffles and learn the ins and outs of chocolate-making. Learn more and arrange your Virtual Tasting Journey now.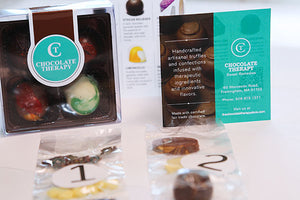 NEW! Public Virtual Tasting Classes!
Join us for our new Virtual Chocolate Tasting Journey.
Bring a friend, family, co-workers or come on your own.
Our team leader stated that he would have listened to you all talk even if there wasn't chocolate. People were clamoring for you to come every quarter. If you started a podcast, you'd have a following. The consensus was this was the best team building event we've had and that you two have out of this world charisma and humor.

Paula W
This place is AMAZING!! The chocolate is incredible and every employee that works there makes you feel like you're family. 

Daniel P.
Absolutely gorgeous chocolates, very tasty hot chocolate, and super sweet (ha ha) staff.

Sevan S.