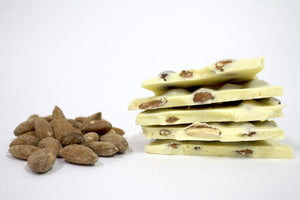 Toasted salted almonds smothered in cream white Belgian chocolate. Delicious!
*Substitutions may occur based on availability. 
IF you are ordering 10 boxes or more PLEASE CALL THE STORE
Allergens and Cross-Contamination: Our products are manufactured on equipment that processes peanuts, tree nuts, milk, gluten and soy. Certain truffles contain milk, wheat, eggs, soy, peanuts, gluten and/or tree nuts. Truffles that are designated gluten-free, dairy-free or nut-free are processed on the same equipment and in the same facility as products that do contain those ingredients.
SHIPPING NOTE:
* All orders are processed within 3-7 business days
* If shipping to warmer climates or during summer season (May 1 - October 1) shipping prices may increase
* We use a two day shipping method Monday - Thursday to the U.S.  We are not responsible for packages left unattended
* Once the product leaves our facility, we are not responsible for:  shipping delays, damage or theft of packages, return or delayed packages due to incorrect addresses